The Saint-Antoine Forest and its waterfalls
PRESENTATION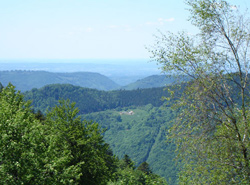 The forest of Saint Antoine is on one of the last foothills of the Southern Vosges. Situated between 500 and 1200 metres above sea-level, it is dominated by the Servance and Alsace peaks (or ballons as the French call these rounded mountain tops). This forest extends over 2700 hectares on very steep hillsides upstream of the Rahin, Miellin and Fray Fonderie valleys.
These granite hills have steep-sided valleys formed by glaciers of the Quaternary period. Water erosion created the glacial cirques and the steep-sided valleys that are characteristic of the landscapes of the valley of Saint Antoine.
At this altitude, firs and beeches dominate; but numerous other species are also present because of the different types of relief. The reforestation of the 19th century introduced the spruce, still a major component in the forest today. These conditions favour rare natural habitats, such as peat bogs, but also moors or high altitude pastures. Between the granite rocks, we also find bilberries.
In addition to very rich and important flora, the protected environment in this sector allows the development of rare and unique fauna: such as capercaillies. To protect these habitats, various procedures have been organized over the years. Today, the Franche Comté peaks Nature Reserve covers 2259 hectares and manages the environmental protection and the social aspects of this protected zone.