The Chérimont forest
PRESENTATION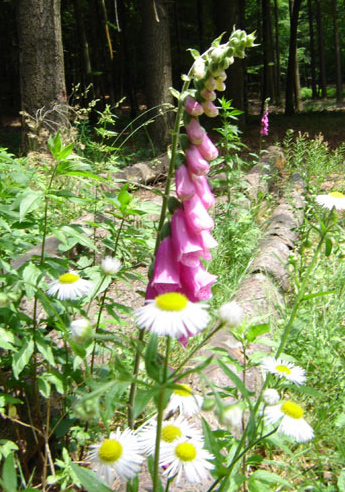 The forest of Chérimont extends over 686 hectares. It belonged to the Prince of Wurtemburg-Montbéliard and became the property of the State when the Principality of Montbéliard was incorporated into France in 1793. Numerous boundary markers still exist with the sculptured antlers of deer, the emblem of the princes of Würtemberg.
The mountain range is a west-facing plateau with numerous springs which supply water to the local villages. It is crossed from north to south by a forestry track: a single road open to the public, joining the D4 Ronchamp-Clairegoutte to the 438 dual carriageway.
Beech is present throughout the forest, sometimes mixed with sessile oak and makes up approximately 70 % of the woodland. This forest, which was managed with the aim of converting it to a regular plantation forest from 1860 on, aims essentially to produce broadleaf wood for timber and firewood, while taking into account the protection of habitats and landscapes and increasing the diversity of broad-leaved trees (sessile oak, maple, sycamore, wild cherry and sweet chestnut etc.).
It is a pleasant place for walking; it is crossed by the GR 59 and the Dukes trail.